Tri-Clamp Short Ferrule (14WMP)
Short Weld Sanitary Tri-Clamp Ferrules
Available in 304 & 316L Stainless Steel
3-A Sanitary Standards for Sanitary Fittings, Number 63-03
Surface Finish: 32Ra
Description
Short weld sanitary ferrules join tri-clamp to butt weld processing lines.
Short weld clamp ferrules are fitted into process lines with both tri-clamp connection and butt welding. The butt welding end is shorter than our
long weld version
. Stainless steel design is offered in both 304 and 316L alloy options. Sizes for this product range from 1/2 inch all the way up to 12 inches. For joining clamp fittings to welded ends. Orbital weld is recommended to ensure proper connectivity, tri-clamp connections including gaskets and clamps are required to finish installation of this fitting.
3-A Sanitary Standards Inc. certifies products meet FDA and USDA regulations to prevent contamination in food, beverage, dairy, and pharmaceutical manufacturing environments.
Short Weld Clamp Ferrules Part Numbers & Dimensions
Watch How to Measure Tri-Clamp Fittings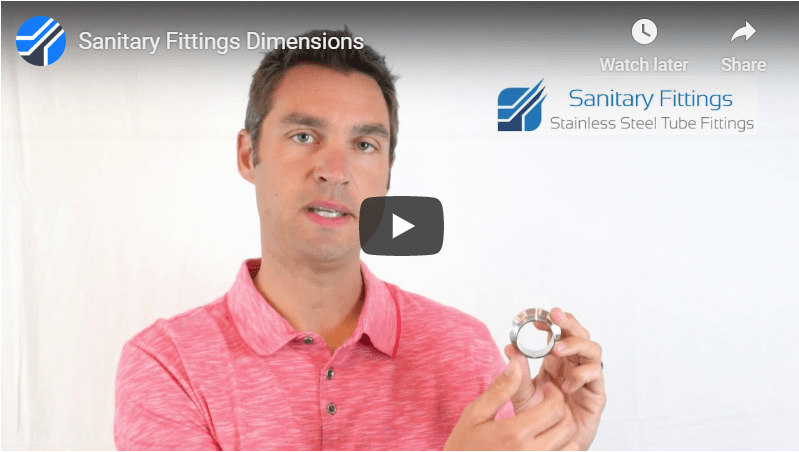 Tri-Clamp Fittings and Gasket Sizing Guide

| Sanitary Size | OD of Flange End | ID of Tube | OD of Tube |
| --- | --- | --- | --- |
| 1/2″ | 0.992 | 0.370 | 0.500 |
| 3/4″ | 0.992 | 0.620 | 0.750 |
| 1″ | 1.984 | 0.870 | 1.000 |
| 1 1/2″ | 1.984 | 1.370 | 1.500 |
| 2″ | 2.516 | 1.870 | 2.000 |
| 2 1/2″ | 3.047 | 2.370 | 2.500 |
| 3″ | 3.579 | 2.870 | 3.000 |
| 4″ | 4.682 | 3.834 | 4.000 |
| 6″ | 6.562 | 5.782 | 6.000 |
| 8″ | 8.602 | 7.782 | 8.000 |
| 10″ | 10.570 | 9.782 | 10.000 |
| 12″ | 12.570 | 11.760 | 12.000 |
Questions & Answers
5
Questions and answers of the customers
Q

Would eltro-polishing tri clamp fitting be a violation of the 3-A standard? Are these available with eltro-polished finished?

A

Electropolishing of these short-weld ferrules would not be a violation of 3A Standards. When a product is manufactured in accordance with 3A standards, this refers to the design of the part and its ability to be cleaned. These ferrules come standard with 32Ra surface finish, but, we can also offer 20 and 15Ra. Alternatively, we do offer BPE Automated Weld Ferrules if that meets your needs.

Q

I want to use a 2" triclamp to connect a 2" copper pipe with a 2" tee. The ferrule will fit the tube but the ID of the tee is 2 1/8th inches. How do you recommend dealing with the slightly larger ID of the tee?

A

Hello. Connections like this where ID/OD are different sizes can be made by welding. We do this when we make adapters from standard to metric fittings such as DIN. Usually, there is a bit of a lip where the two items meet but this isn't an issue. If you are able to but the pieces together the items should be able to be welded together.

Q

Can I weld this to an 8" OD 14 gauge tube?

A

Short answer, yes. Your 14 gauge tubing will be slightly thinner than our standard 8" tubing gauge of 12. There will be a noticeable lip between the two parts but this can be ground down for a smooth surface if desired.

Q

What is the pressure rating of these ferrules?

A

This is kind of a difficult question to answer because of several variables. The quick answer would be to say a lot. The theoretical burst pressure of a 1" sanitary tube is over 10,000PSI. That number begins to decrease as the tube size increases, however, in most typical situations the pressure would never reach this level. The question that should really be asked should focus more on the weak spot in the process line, that being the joints where ferrules, clamps and gaskets meet. If a line is going to fail under pressure this is the weakest point and also the spot that should be the focus of your attention. We carry both the single pin heavy duty clamp for "lighter" applications and the bolted clamp for higher pressure situations if necessary.

Q

I'm looking for a sanitary fitting with tube OD size of 1.345". I believe this is metric. Do you carry these?

A

Hello, yes that is a metric sized measurement. We do not offer these types of products on our website at the moment. Sorry I couldn't be of more help.