Description
Gain sight access to processing media with tri-clamp sight glass cap style
Clamp sight glass allows for the ability to visually inspect tube media. Clamp connection requires the use of gaskets and clamp for a secure fit. Available for tube outside diameter connections up to 4".
Part Numbers & Dimensions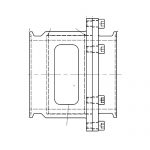 KDB Tri-Clamp Bolt Style Sight Glass Installation Instructions
KDF Socket Head Cap Screw Installation
Pyrex Glass Tubing Working Temperatures & Pressures
Size (Tube OD)
Part Number
Dimensions
Working Pressure (PSI)
Line Drawing
OAL
1"
54CMP-1-316
3.625
 145
1-1/2"
54CMP-1.5-316
3.625
 145
Request Drawing
2"
54CMP-2-316
3.625
 145
2-1/2"
54CMP-2.5-316
3.625
 120
Request Drawing
3"
54CMP-3-316
3.625
 120
4"
54CMP-4-316
3.625
 95
Questions & Answers
1
Questions and answers of the customers
Q

Looking at it, it says max temp of 200 F, but if I click on the link for the glass specs in the description it says the glass is rated for 450 F. Is the lower limit because of the seals used during assembly, and if so do you make custom ones with PTFE seals, or some other seal that can go up to 450 F ?

A

The rating of 200-Degrees is for the union, not just the glass itself. Unfortunately, we do not rate any clamp union at 400 degrees Fahrenheit.