Male Long Weld I-Line Ferrule (14WLI)
Sanitary Male Long Weld I-Line Ferrule
Available in 304 & 316L Stainless Steel
3A Certified for sanitary-grade line process equipment
Description
Secure rigid I-Line connection with stainless steel Male x Long Weld Ferrule
Male long weld ferrule fittings provide a leak-resistant seal, joining two separate tube fitting components.  Circular welding is required to join this ferrule to one tube connection.  Available in both 304 and 316L Stainless Steel alloys, providing both strength and durability.  This product is 3A certified for use inline process applications where sanitary conditions are a requirement.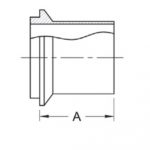 Sizes & Dimensions
Size (Tube OD)
Part Number
Dimensions
304
316L
A
1"
14WLI4-100
14WLI6-100
1.562
1-1/2"
14WLI4-150
14WLI6-150
1.843
2"
14WLI4-200
14WLI6-200
2.062
2-1/2"
14WLI4-250
14WLI6-250
2.500
3"
14WLI4-300
14WLI6-300
2.375
4"
14WLI4-400
14WLI6-400
2.688
Questions & Answers
1
Questions and answers of the customers
Are these for .065 wall tubing?

Q

Are these for .065 wall tubing?

A

Up to 3" I-Line fittings have a wall thickness of .065". Larger outside diameters will have corresponding thicker walls.