Sanitary Flange Weld Neck
Sanitary Flange w/ Butt-Weld Neck (38W)
1/2″ Thick, 150# Bolt Pattern
Available in 304 & 316L Stainless Steel
Description
38W Weld Neck Sanitary Flange connects pump flange to permanent weld for permanent, sanitary connection in process lines
Height of 1/2" and is available in both 304 and 316L stainless steel alloys. This product comes rated with a 150-pound bolting pattern. Configurations are available to accommodate tube sizes ranging from 1" in diameter up to 8".
Sanitary Flange Dimensions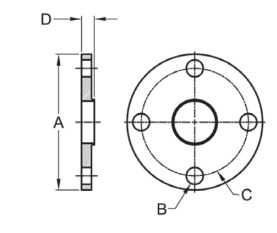 Questions & Answers
1
Questions and answers of the customers
Q

Can you confirm what the Ra surface finish of these flanges are? I assume these are considered as "Sanitary" for food and beverage processing.

A

Surface finish on these flanges is our standard 32Ra (Roughness Average) Mechanical Polish. All products we offer are meant for sanitary environments including food & beverage.