Threaded Mount Tube Hangers
Stainless Steel Tube Thread Mounted Hanger
Available in both 304 & 316L Stainless Steel.
Threaded coupler receives 3/8″ Threaded Rod (not included)
"C" style clamp opens/closes with secured acorn bolt
Plastic sleeve insert included
Description
Securely suspend sanitary tubing with thread mounted hangers
The threaded mount hanger comes standard with a coupler for 3/8" threaded rod (not included). Available in both 304 and 316L stainless steel alloys. The hanger can be opened up with the use of a hex nut to allow for maximum maneuverability. Hangers will accommodate sanitary tube sizes 1/4" up to 6" (Outside Diameter)
Threaded Mount Tube Hanger Part Numbers & Dimensions
Watch How to Measure Tri-Clamp Fittings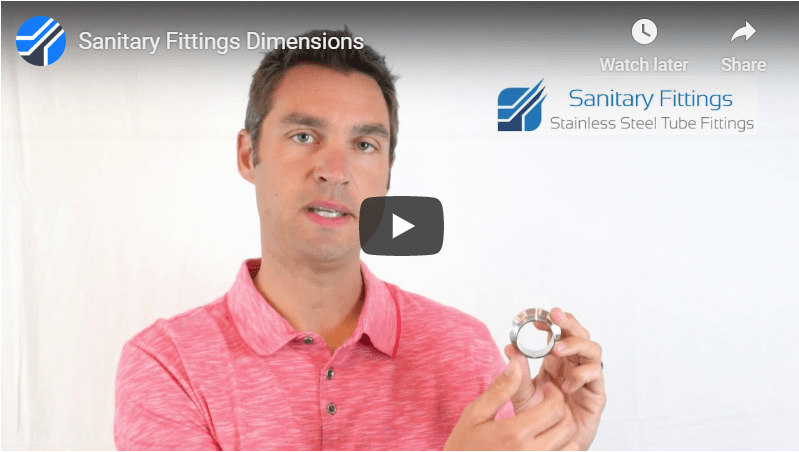 Tri-Clamp Fittings and Gasket Sizing Guide

| Sanitary Size | OD of Flange End | ID of Tube | OD of Tube |
| --- | --- | --- | --- |
| 1/2″ | 0.992 | 0.370 | 0.500 |
| 3/4″ | 0.992 | 0.620 | 0.750 |
| 1″ | 1.984 | 0.870 | 1.000 |
| 1 1/2″ | 1.984 | 1.370 | 1.500 |
| 2″ | 2.516 | 1.870 | 2.000 |
| 2 1/2″ | 3.047 | 2.370 | 2.500 |
| 3″ | 3.579 | 2.870 | 3.000 |
| 4″ | 4.682 | 3.834 | 4.000 |
| 6″ | 6.562 | 5.782 | 6.000 |
| 8″ | 8.602 | 7.782 | 8.000 |
| 10″ | 10.570 | 9.782 | 10.000 |
| 12″ | 12.570 | 11.760 | 12.000 |
Questions & Answers
2
Questions and answers of the customers
Q

What is the thread pitch on the 3/8" coupling?...

Read more

A

Thread pitch on all 3/8" couplings is 16.

Q

What material is the plastic insert and what temperature is it rated to?...

Read more

A

The plastic insert is polysulfone. These polymers are known for their toughness and stability at high temperatures. These inserts are rated to a temperature of 325 degrees Fahrenheit, sustained.