90° Tri-Clamp Elbow (2CMP)
90-Degree Tri-Clamp Sanitary Elbow
Available in 304 & 316L Stainless Steel
Stamped with Heat Lot Number
Surface Finish: 32Ra
Description
Securely connect separate sanitary process lines with stainless steel tri-clamp 90° elbows
The 90° tri-clamp elbow is available in both
304
and
316L
alloy, stainless steel. Clamp adapters such as the
single pin heavy duty clamp
with wing nut or
bolted clamp
should be used to properly secure joining ends.
Clamp style connection allows for easy disassembly for cleaning and access to line processing media. This product is manufactured in accordance with 3A Standards for sanitary-grade line process equipment.
3-A Sanitary Standards Inc. certifies products meet FDA and USDA regulations to prevent contamination in food, beverage, dairy, and pharmaceutical manufacturing environments.
Request Material Test Reports (MTRs)
90° Clamp Elbows Part Numbers & Dimensions
Part Number Cross Reference
Sanitary Fittings
Bradford
Alfa Laval
Waukesha Cherry
VNE
Top Line
Andron®
2CMP
B2CMP
2CMP
2CMP
EG2C
2CMP
AC2SX
Watch How to Measure Tri-Clamp Fittings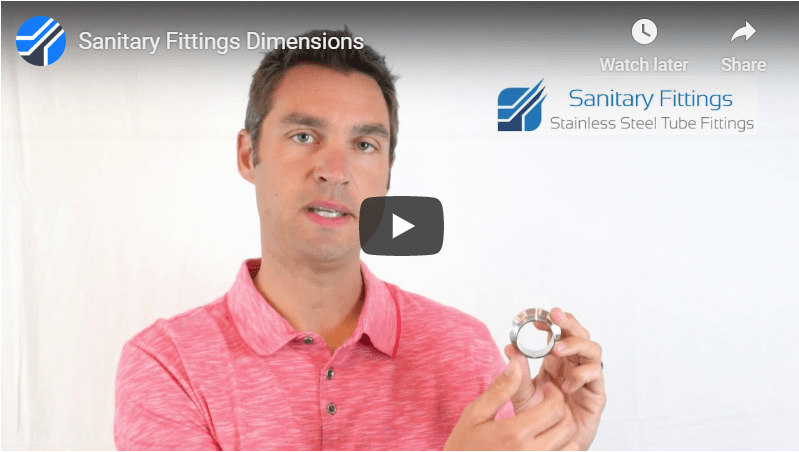 Tri-Clamp Fittings and Gasket Sizing Guide

| Sanitary Size | OD of Flange End | ID of Tube | OD of Tube |
| --- | --- | --- | --- |
| 1/2″ | 0.992 | 0.370 | 0.500 |
| 3/4″ | 0.992 | 0.620 | 0.750 |
| 1″ | 1.984 | 0.870 | 1.000 |
| 1 1/2″ | 1.984 | 1.370 | 1.500 |
| 2″ | 2.516 | 1.870 | 2.000 |
| 2 1/2″ | 3.047 | 2.370 | 2.500 |
| 3″ | 3.579 | 2.870 | 3.000 |
| 4″ | 4.682 | 3.834 | 4.000 |
| 6″ | 6.562 | 5.782 | 6.000 |
| 8″ | 8.602 | 7.782 | 8.000 |
| 10″ | 10.570 | 9.782 | 10.000 |
| 12″ | 12.570 | 11.760 | 12.000 |
Questions & Answers
4
Questions and answers of the customers