Wingnut I-Line Clamp (13IS)
Sanitary Wingnut I-Line Clamp
Available in 304 Stainless Steel
Pressure ratings assume wing nut tightened to 25 ft/lb of torque
Description
Easily join separate sanitary I-Line clamp ends with wingnut clamp
I-Line fitting clamps ensure a leak-resistant, even connection to ensure rigidity of your sanitary process line systems. Interlocking design allows for a safe, compression connection reducing the chance of gasket interfering with process line product or over tightening.  I-Line fittings are the most durable with regards to vibration, temperature, and pressure.
Wingnut I-Line Clamp Part Numbers & Dimensions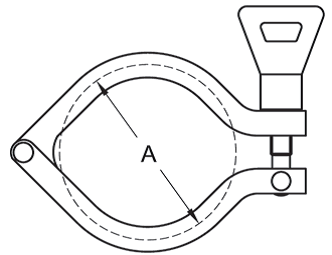 Size (Tube OD)
Part Number
Service Pressure Rating at 70°F
Service Pressure Rating at 250°F
Dimensions
A
1" - 1-1/2"
13IS-100-150
700
250
2.122
2"
13IS-200
450
250
2.654
2-1/2"
13IS-250
450
200
3.185
3"
13IS-300
350
150
3.717
4"
13IS-400
200
125
4.820
Questions & Answers
Questions and answers of the customers
There are no questions yet. Be the first to ask a question about this product.