Description
Gain sight access to processing media with clamp sight glass
Clamp sight glass allows for the ability to visually inspect tube media. Clamp connection requires use of gaskets and clamp for secure fit. Available for tube outside diameter connections up to 4".
Part Numbers & Dimensions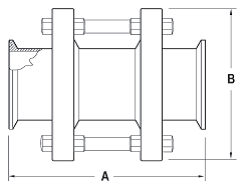 Size (Tube OD)
Part Number
Dimensions
Working Pressure (PSI)
OAL
1"
54BMP-1-316
5.875
 145
1-1/2"
54BMP-1.5-316
5.875
 145
2"
54BMP-2-316
5.875
 145
2-1/2"
54BMP-2.5-316
6.375
 120
3"
54BMP-3-316
7.500
 120
4"
54BMP-4-316
7.625
 95
Questions & Answers
2
Questions and answers of the customers
Q

What material is the gasket that comes with this sight glass?

A

The default gasket material is Buna (white) for the Tri-Clamp Sight Glass assembly. These are I-Line gaskets and we can substitute for other materials including: EPDM (black/white) or Silicon (clear). We do not recommend Viton as this will not create a perfect seal within the assembly and may cause leakage.

Q

Is it made of Hastelloy?

A

No. The Tri-Clamp Sight Glass is made of 316 Stainless Steel. Unfortunately, we do not offer any products made of Hastelloy (C276).