A Tri-clamp sight glass gives the brewer a sneak-peak into the wonderful pipeworks, boilers,  and barrels of beer whenever, and wherever, it's transferred from point A to point B. 
What you see is what you get. This is especially important and true in the complex process of brewing beer. You want your customers to enjoy an ice-cold, clear, and refreshing beer without having to deal with swallowing down sediment or pieces of hops and yeast. But, the sanitary sight glass also plays a critical part in your process plant's safety and the end product's quality. 
In brewing, your liquids perform better under pressure. No pun intended.  However, boilers used in the brewing line-up build up pressure with PSI levels that need to be monitored through sight glasses. 
What Is a Tri-Clamp Sight Glass?
What Is the Purpose of a Tri-Clamp Sight Glass in Breweries?
Simply put, a sight glass is a transparent glass tube or window installed in a tank or boiler system to permit the viewer to find out what's happening inside the container.   The sight glass helps to ensure the product meets optimum quality and safety standards.
The sight glass is most commonly used for monitoring pressurized fluids to optimize safety and quality.  You use the sight glass for observing the flow, clarity, and color of fluids — and to see the flow of your in-line oxygenator.
Sanitary sight glasses form part of the sub-category Tri-Clamp fittings.   They are a subset of processing equipment fittings and play a vital role. Especially in industries that work with high PSI levels in the production line including but not limited to the production of beer.
When installing sight glasses you'll need a variety of other Tri-clamp fittings to complete the task properly.  Whether you're a home-brewer building your first kegging system or managing an industrial plant—Tri-clamp fittings are a crucial part of your operations.  Let's delve a bit deeper into Tri-clamp fittings and why they're so important to your brewing process.
What Are Tri-Clamp Fittings?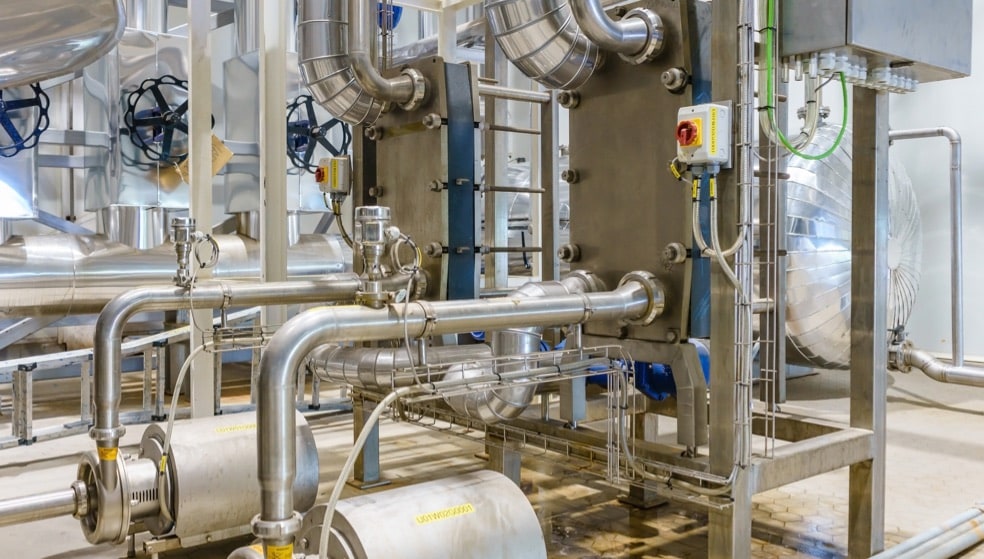 We use Tri-clamps in the beverage and food industries, where the prevention of contamination is one of the chief concerns. 
In brewing, the Tri-clamp is the most common sanitary connection between the pump, the kettle, the fermenter, and the fermentation system.
Stainless steel Tri-clamp fittings are the most popular style of the process line equipment used within the food, beverage, and pharmaceutical industries in the United States.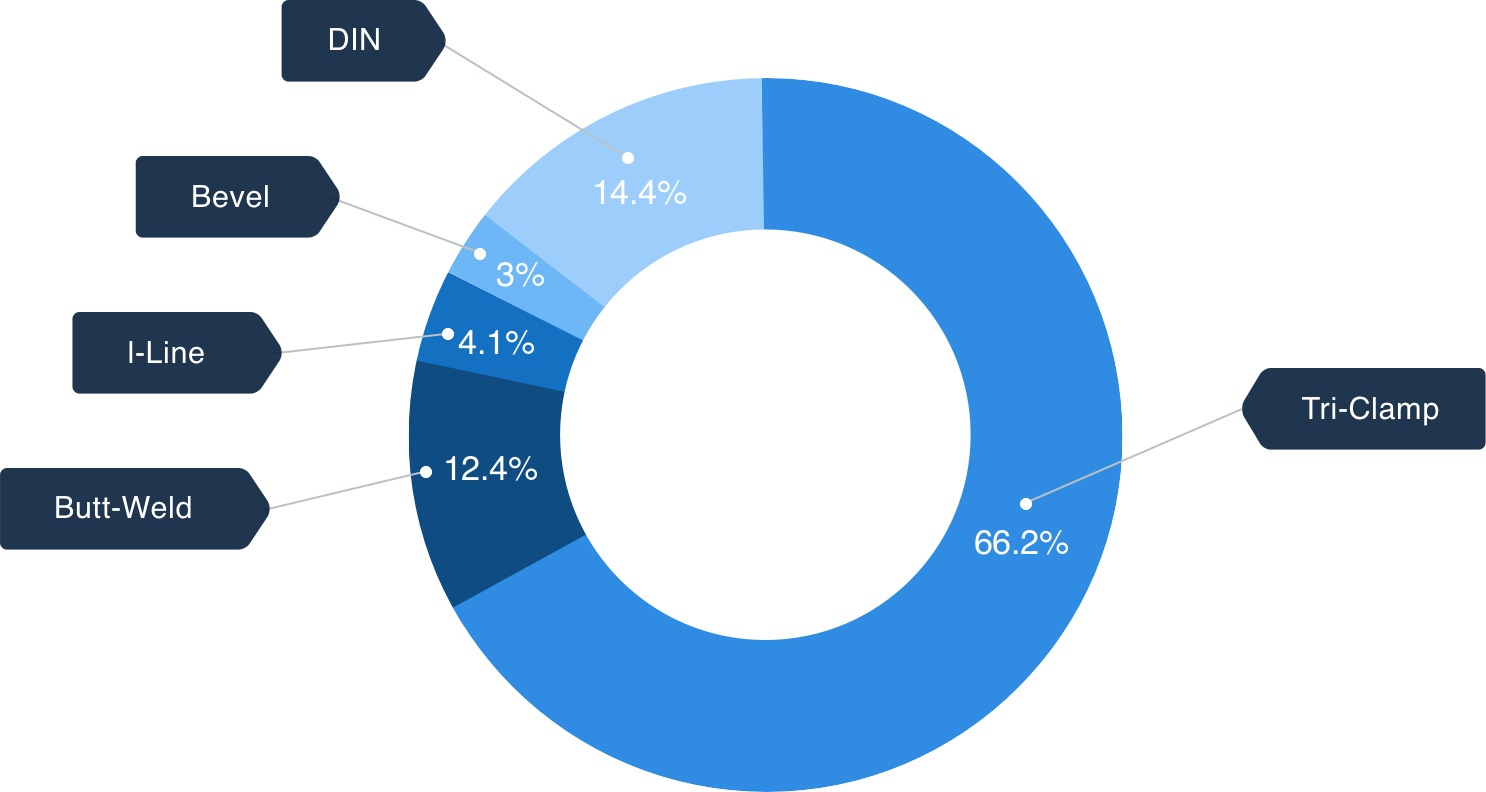 Meticulous planning and effort go into establishing a successful brewing and manufacturing process.  If you produce and manufacture food, beverages, medical or biopharmaceutical supplies, you face very demanding and specific requirements to meet the industry safety and quality standards.  All liquids have to move from one point to the next in the manufacturing process. To do this without compromising the above, we use various sanitary valves, tubes, and other fittings. 
If you use a high-quality Tri-clamp sanitary fitting, it'll quickly create a leak-proof connection that allows easy assembly or disassembly for your production line's routine maintenance and inspection.
The Importance of Sanitary Fittings to the Manufacturing Process
Tri-clamp fittings are one subcategory of sanitary fittings.  The reason why you have to use sanitary fittings within the food, beverage, and biopharmaceutical industries is that standard fittings made from chrome steel allow for little pockets and may easily suffer nicks and scratches. 
These flaws may often be microscopic, but they're still large enough to gather and breed the impurities that no company wants to stress about becoming a part of their manufacturing processes.  Sanitary fittings don't carry an equivalent risk as they are polished to an almost flawless finish, reducing the likelihood of those flaws ever developing.
Why Is Tri-Clamp Sight Glass Made from Stainless Steel?
Companies within the food, beverage, and biopharmaceutical industries depend upon several sanitary components to move products during their manufacturing processes.  As mentioned above, these components must keep all the equipment from being contaminated by harmful impurities.  Everything from the sanitary tubing to the gaskets must do its job perfectly or your company or home setup may incur costly expenses including system downtime or spoiled product.
White Buna is the default gasket material used for the Tri-Clamp Sight Glass assembly.  We don't recommend Viton as this may not create an ideal seal within the assembly and it can cause leakage.
What Do I Need to Install a Tri-Clamp Sight Glass in my brewery?
One sight glass

(we offer several types)

Pyrex Glass w/ Stainless Steel Safety Shield

Field serviceable

Maximum operating temperature:  200°F

Maximum operating pressure:  95 to 145 PSI dependent on size

Working PSI/temp. assumes the absence of thermal shock

One Tri-Clamp Gasket

Available in Buna, EPDM, Teflon® and Viton®

Sizes from 1/2″ up to 12″

Creates a

leak-proof seal

between tri-clamp flanges

Compound Selection Guide

Temperature & Usage Guide

Sizing Guide

FDA / USP Class VI Tested 

One Tri-clamp Clamp

Tri-Clamp Single Pin Heavy Duty Clamp
Clamps are available in both 304 & 316L Stainless Steel.
Pressure ratings assume wing nut tightened to 25 in/lb of torque.
Where Do I Fit a Tri-Clamp Sight Glass?
You should place Tri-Clamp Sight Glasses in-line and sight where and when you transfer your wort from kettle to fermenter. 
Installation
Tri-clamp fittings comprise two flanged ends (also mentioned as ferrules), a gasket, and a clamp to secure the connection.
There are several materials you'll choose between for the gasket, ensuring a totally leak-proof connection. Popular options include:
To create a secure reference to a Tri-clamp fitting, mate the 2 flanged ends alongside a gasket between their two faces. Then, secure the connection in situ by employing a clamp then tightening it by hand.  Before tightening, confirm that the gasket sits properly into the seats of both flanges.  Incorrect alignment here is one of the principal causes of leaks.
With the gasket in situ, loosen the clamp so you'll fit it around the flange ends. Take a flash to see that both are within the groove of your clamp before you tighten it.  You don't need more than to firmly hand-tighten clamps for a secure, leak-proof connection.   
Note:  Over-tightening can cause undue pressure and potential bulging of the gasket, pushing it into the pipeline and creating an edge where bacteria will build up.
Of course, that doesn't mean a decent connection isn't important.  When clamps are under-tightened, they permit for gaps between the ferrules and therefore the gasket.  Even if it doesn't end in dripping, this type of gap is enough to trap materials where clean-in-place (CIP) practices can't reach. It's only a matter of your time before bacteria grow.
Let's Seal the Deal
Whether you're planning your first home-brewing production line or need a sanitary sight glass replacement on existing in-line installations—investing in high-quality sanitary materials and products will always make sure your business flow runs more smoothly. 
Out of sight, out of mind is not a good company motto for brewers.
A high-quality Tri-clamp sight glass is exactly what you need to keep an eye on your operations.
Contact us to help you bring quality, safe, and sanitary sight to your production line.