Tri-Clamp Long Ferrule (14AM7)
Sanitary Long Weld Tri-Clamp Ferrules
Stamped with Heat Lot Number
Description
Long weld tri-clamp ferrules connect sanitary process lines to permanent welded end.
Long weld clamp ferrules allow extra room for welding capabilities when assembling process lines. Stainless steel design is offered in both
304
and
316L
alloy options. Sizes for this product range from 1/2 inch all the way up to 12 inches. For joining clamp fittings to welded ends. Orbital weld is recommended to ensure proper connectivity, tri-clamp connections finish this process line.
Recommended products include
clamp gaskets
and
single-pin, heavy duty clamps
.
3-A Sanitary Standards Inc. certifies products meet FDA and USDA regulations to prevent contamination in food, beverage, dairy, and pharmaceutical manufacturing environments.
Request Material Test Reports (MTRs)
Long Weld Clamp Ferrules Part Numbers & Dimensions

Tri-Clamp Long Ferrule Line Drawing
Watch How to Measure Tri-Clamp Fittings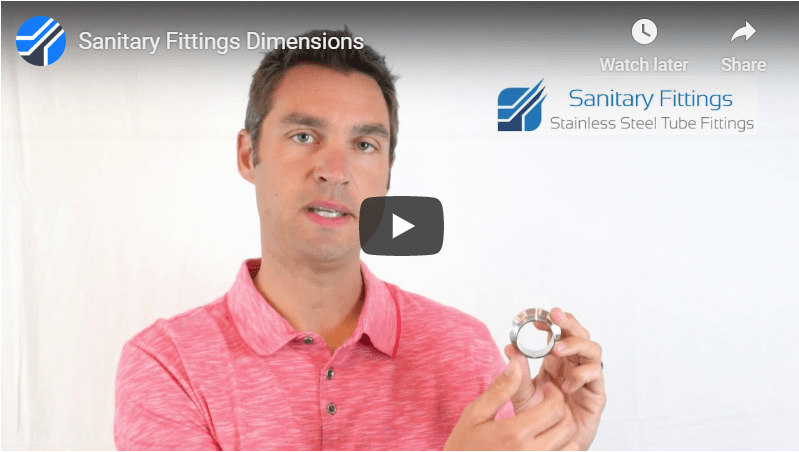 Tri-Clamp Fittings and Gasket Sizing Guide

| Sanitary Size | OD of Flange End | ID of Tube | OD of Tube |
| --- | --- | --- | --- |
| 1/2″ | 0.992 | 0.370 | 0.500 |
| 3/4″ | 0.992 | 0.620 | 0.750 |
| 1″ | 1.984 | 0.870 | 1.000 |
| 1 1/2″ | 1.984 | 1.370 | 1.500 |
| 2″ | 2.516 | 1.870 | 2.000 |
| 2 1/2″ | 3.047 | 2.370 | 2.500 |
| 3″ | 3.579 | 2.870 | 3.000 |
| 4″ | 4.682 | 3.834 | 4.000 |
| 6″ | 6.562 | 5.782 | 6.000 |
| 8″ | 8.602 | 7.782 | 8.000 |
| 10″ | 10.570 | 9.782 | 10.000 |
| 12″ | 12.570 | 11.760 | 12.000 |
Questions & Answers
4
Questions and answers of the customers