Tri-Clamp Short Ferrule (14WMP)
Short Weld Sanitary Tri-Clamp Ferrules
Available in 304 & 316L Stainless Steel
3-A Sanitary Standards for Sanitary Fittings, Number 63-03
Surface Finish: 32Ra
Description
Short weld sanitary ferrules join tri-clamp to butt weld processing lines.
Short weld clamp ferrules are fitted into process lines with both tri-clamp connection and butt welding. The butt welding end is shorter than our
long weld version
. Stainless steel design is offered in both 304 and 316L alloy options. Sizes for this product range from 1/2 inch all the way up to 12 inches. For joining clamp fittings to welded ends. Orbital weld is recommended to ensure proper connectivity, tri-clamp connections including gaskets and clamps are required to finish installation of this fitting.
3-A Sanitary Standards Inc. certifies products meet FDA and USDA regulations to prevent contamination in food, beverage, dairy, and pharmaceutical manufacturing environments.
Short Weld Clamp Ferrules Part Numbers & Dimensions
Watch How to Measure Tri-Clamp Fittings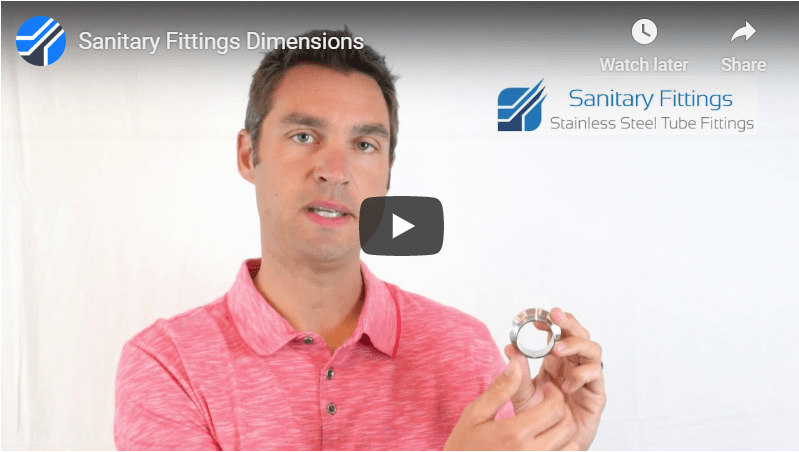 Tri-Clamp Fittings and Gasket Sizing Guide

| Sanitary Size | OD of Flange End | ID of Tube | OD of Tube |
| --- | --- | --- | --- |
| 1/2″ | 0.992 | 0.370 | 0.500 |
| 3/4″ | 0.992 | 0.620 | 0.750 |
| 1″ | 1.984 | 0.870 | 1.000 |
| 1 1/2″ | 1.984 | 1.370 | 1.500 |
| 2″ | 2.516 | 1.870 | 2.000 |
| 2 1/2″ | 3.047 | 2.370 | 2.500 |
| 3″ | 3.579 | 2.870 | 3.000 |
| 4″ | 4.682 | 3.834 | 4.000 |
| 6″ | 6.562 | 5.782 | 6.000 |
| 8″ | 8.602 | 7.782 | 8.000 |
| 10″ | 10.570 | 9.782 | 10.000 |
| 12″ | 12.570 | 11.760 | 12.000 |
Questions & Answers
5
Questions and answers of the customers