Tri-Clamp x Q-Line Adapters (17MP-14Q)
Q-Line x Tri-Clamp Adapter
Available in 316L Stainless Steel
Stamped with Heat Lot Number
Creates connection between q-line and tri-clamp connections
Description
Sanitary tri-clamp x q-line adapter for switching between process line fittings.
Q-Line by tri-clamp style adapter fitting is available in both 304 & 316L stainless steel alloy. This product allows for both ease in assembly and breakdown of sanitary line process equipment. The grooved end provides a tight seal for rubber hose connection. Clamp end requires the use of
single pin clamp
along with q-line gaskets to complete assembly.
Tri-Clamp x Q-Line Adapters Part Numbers & Dimensions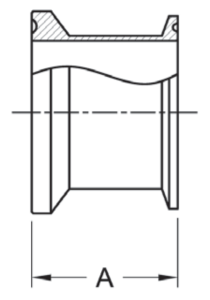 Size (Tube OD)
Part Number
Dimensions
304L
316L
A
1"
17MP-14Q-1-304
17MP-14Q-1-316
1.656
1 1/2"
17MP-14Q-1.5-304
17MP-14Q-1.5-316
1.687
2 "
17MP-14Q-2-304
17MP-14Q-2-316
1.942
2-1/2"
17MP-14Q-2.5-304
17MP-14Q-2.5-316
2.062
3 "
17MP-14Q-3-304
17MP-14Q-3-316
2.062
4 "
17MP-14Q-4-316
17MP-14Q-4-316
2.125
Questions & Answers
There are no questions yet. Be the first to ask a question about this product.