High Pressure Tri-Clamp (13MHP)
High-Pressure Doulble Bolted Tri-Clamps
Available in 304 Stainless Steel.  Nuts are brass.
Pressure ratings assume wing nut tightened to 20 ft/lb of torque.
Description
Secure high-pressure processing lines with the double-bolted tri-clamp.
This heavy duty clamp is able to withstand higher pressure ratings than our standard
single-pin heavy duty clamp
. Pressure ratings for this clamp vary depending on applicatio processing temperatures and tubing dimensions. Please consult the reference chart below for specific information.
Bolted Clamps Part Numbers & Dimensions
Double Bolted Clamp Sizes & Dimensions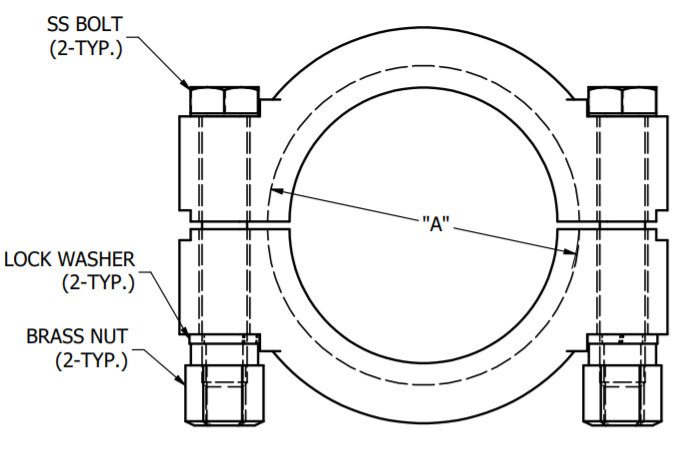 Watch How to Measure Tri-Clamp Fittings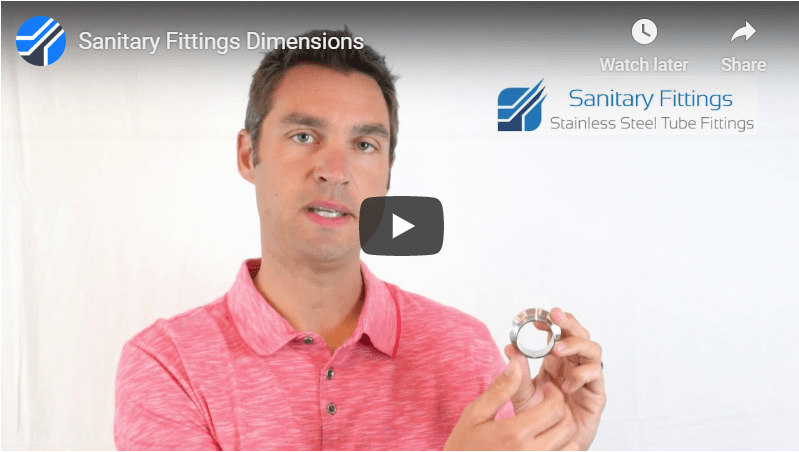 Tri-Clamp Fittings and Gasket Sizing Guide

| Sanitary Size | OD of Flange End | ID of Tube | OD of Tube |
| --- | --- | --- | --- |
| 1/2″ | 0.992 | 0.370 | 0.500 |
| 3/4″ | 0.992 | 0.620 | 0.750 |
| 1″ | 1.984 | 0.870 | 1.000 |
| 1 1/2″ | 1.984 | 1.370 | 1.500 |
| 2″ | 2.516 | 1.870 | 2.000 |
| 2 1/2″ | 3.047 | 2.370 | 2.500 |
| 3″ | 3.579 | 2.870 | 3.000 |
| 4″ | 4.682 | 3.834 | 4.000 |
| 6″ | 6.562 | 5.782 | 6.000 |
| 8″ | 8.602 | 7.782 | 8.000 |
| 10″ | 10.570 | 9.782 | 10.000 |
| 12″ | 12.570 | 11.760 | 12.000 |
Questions & Answers
13
Questions and answers of the customers
Q

For steam applications, we use PTFE teflon gaskets having max temp 450°F. What are the 13MHP Service Pressure Ratings at 450°F?

A

The maximum pressure/temperature rating that we test to is 250-Degrees. We cannot offer pressure ratings beyond that temperature.

Q

Looking for a 5-1/8" Sanitary Clamp, does this exist?

A

We don't offer the High-Pressure Clamp in 5" size but we do have the Single-Pin Heavy Duty Clamp in 5" size. Please contact us if you would like a quote.

Q

is there a torque spec on these high pressure clamps?

A

Pressure ratings assume hex nut is tightened to 20 ft/lb of torque.

Q

Do you have high pressure tri-clamp with ASME BPE standard and DIN Standard? If so what is the difference in dimensions?

A

We do not offer a double-bolt clamp for DIN fittings.  We do however offer the ASME BPE Double-Bolt Clamp.  Sizes and dimensions can be found on the product detail page.

Q

Hello, what is the difference between alfa laval 13mhp and A13mhp

A

Hello. We don't offer any products manufactured by Alfa-Laval. That being said, I did visit their website and could discern no notable differences between the 13MHP and A13MHP. I'm sorry that we could not be or more help to your question. We, of course, do offer the 13MHP as a standard product.

Q

What is the operating temperature range of the clamps? How low can they go?

A

The operating temperature of these clamps is dependant upon the material selected for the tri-clamp gasket. Different materials are able to withstand different temperatures. Our lowest-rated temperature gasket material is Teflon which is rated at -250 Degrees Fahrenheit. Read about more gasket information here.

Q

Could you confirm that these clamps are ASME rated?

A

Our High-Pressure Tri-Clamps are not ASME rated.

Q

Hi there, can you tell me the outer diameter of the 12" clamp? Not including the bolt or bolt lugs. Thanks!

A

13 1/4" is the outside diameter of our 12" clamp.

Q

are all the clamps you have - made w brass bolts? we need stainless only

A

We are able to offer stainless steel nuts and bolts for our high-pressure tri-clamps. Please contact us for more information.

Q

What is the weight of the 2" clamp?

A

The 2" High-Pressure Tri-Clamp Clamp weighs in at 1.4 pounds.

Q

Is 13MHP-050-075 a valid part? It isn't listed in the sizes and dimensions chart.

A

Yes, the correct part number is 13MHP-050-075. We neglected to add this SKU to our sizing and dimensions chart. That information has now been added. Nice catch!

Q

What's the difference between this and your single pin clamp?

A

Hello and thanks for writing in. The bolted clamp and single pin clamp will achieve the same results in that they will make a secure tri-clamp connection. The difference between the two really comes down to ease of installation. While the bolted clamp requires two hex nuts to be secured the single pin only requires one making it easier to assembly and disassembly. The price of the single pin is less than the bolted. Given this and the ease of use I always recommend use of our single pin clamp.

Q

I'm ordering a bunch of these bad boys. Do you offer volume discounts? Thx.

A

Hi, thanks for asking. I always appreciate the bargain hunters out there. Sanitary Fittings prides itself on being the low-cost provider of quality stainless steel products online. We will make every attempt to match a competitors price but there are some cases where even we cannot compete. We do not offer standard volume discounts because of our already low pricing. However, if you are looking to place an unusually large order by our definition please run it by us and we'll see what we can do for you. Hope this helps!