Once upon a time, a beginner home brewer set out to make a batch of rich, caramel-and-toffee flavored, "easy as can be" American brown ale. 
He added his roasted malts to his Maris Otter barley. He then carefully combined them with his meticulously blended hops. 
All during brewing day, he dreamt of sipping that smooth, lovely beer as he watched the "big game", as he enjoyed a barbecue with friends, as he wooed and won over his ladylove. 
Imagine his surprise when the first sip of his lovely nut-brown ale that he'd so looked forward tasted more like Juicy Fruit chewing gum than beer!
His "can't fail, works every time" recipe had gone horribly wrong. Or had it?
When an ale's fermentation temperature gets too high, it can get that super-fruity chewing gum taste. This explains why, historically, certain types of beers like lagers and ales, were brewed during the winter and stored in cellars or caves. 
They need the cold to brew properly.
How can you, as another homebrewer, learn from this guy's mistakes? With this guide to tri-clamp thermowells. 
We'll teach you how to set up your home brewing system so that your fermentation and chilling temps can be properly monitored. 
All it takes is a few pieces of readily available brewing equipment. Here's what we'll cover:
What Is a Tri-Clamp Thermowell?
Where to Use a Tri-Clamp Thermowell on Your Homebrewing Setup
How to Properly Measure Your Tri-Clamp Fittings
How We Can Help With Your Homebrewing Needs
And trust us when we say that this homebrewing recipe truly is "can't fail, works every time."
What Is a Tri-Clamp Thermowell?
Before we can intelligently discuss what a tri-clamp thermowell is, let's make sure you understand what any tri-clamp fitting is, and how they work. 
Tri-Clamp Fittings
Consider this the Cliffs Notes version of our rather exhaustive, comprehensive guide to tri-clamp fittings, which you can find here.   
Basically, a tri-clamp fitting is composed of four parts:
The two flanged ends, or ferrules, of the parts being connected

A gasket that fits between the faces of the ferrules

A clamp that tightens the ferrules into the gasket to form the seal and secure the connection
Here's a cross-section diagram showing the ferrules and gasket, minus the clamp.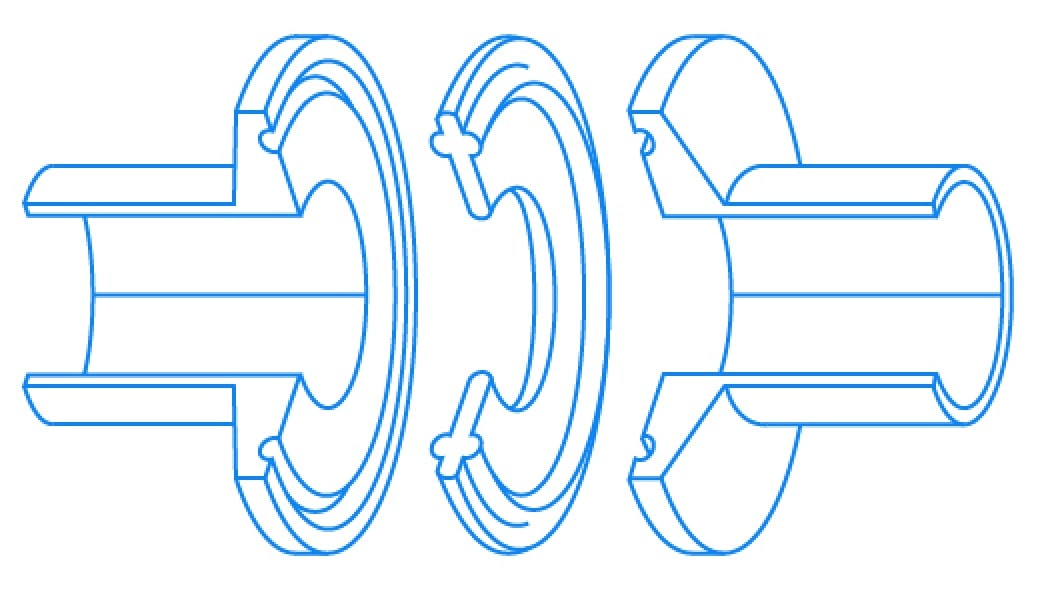 The Difference Between Tri-Clamp and Tri-Clover Fittings
You may be wondering, especially if you've been reading some of the homebrewing blogs and forums, what the difference is between a tri-clamp thermowell and other fittings, and a tri-clover thermowell and other fittings. 
Absolutely nothing. 
Tri-clover is simply another name or term for tri-clamp fittings. Neither one is "correct" or "preferred," and most in the homebrew crowd either use them interchangeably or stick with one or the other. 
We use the term "tri-clamp" in our guides, blog articles, and product catalog, as you've probably noticed. Other guys use "tri-clover" in theirs. The parts and fittings are made the same, work the same, and do the same jobs. 
So no matter whether you say tri-clamp or tri-clover, it's all the same high-quality home brewing equipment. And a lot, and we mean a lot of folks use them. Here's a chart showing tri-clamp/tri-clover fittings are the most popular type of fitting in our brewing world: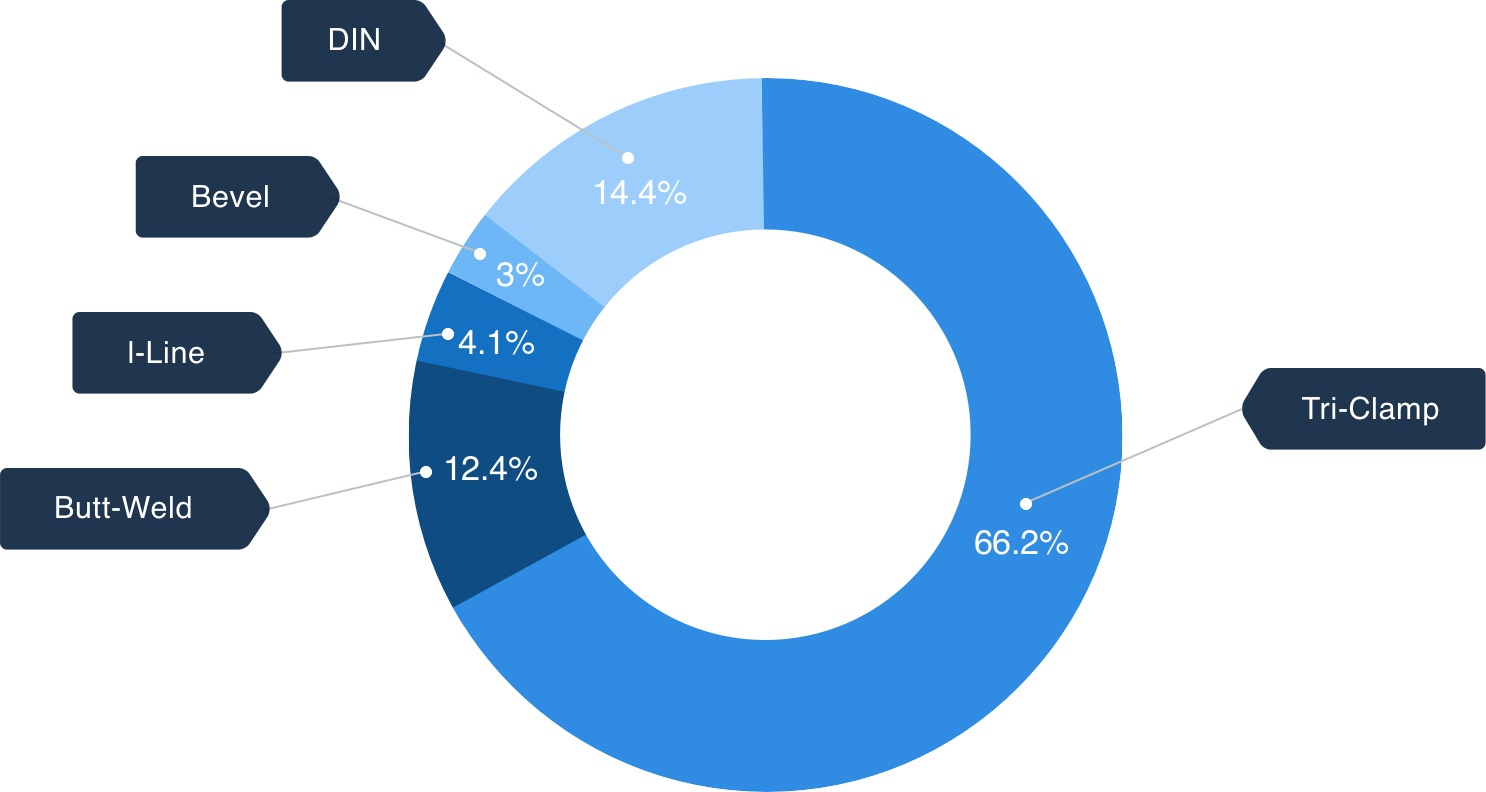 What Is a Thermowell?
A thermowell is basically a stainless steel tube that allows you to insert a thermometer into your wort to monitor its temperature. 
A tri-clamp thermowell is a thermowell made to connect with your tri-clamp fittings.
In addition to the nasty shock of a Juicy Fruit ale, improper brewing temps can lead to semi-toxic offshoots of alcohol, yeast issues, and under-fermentation, as well. 
Proper monitoring and adjusting of your brewing temperatures produce a much more pleasant—and safe—brewing and drinking experience. 
Having thermowells at various points in your homebrewing system allows you to monitor those all-important temperatures that can mean the difference between a good day and a bad day of brewing. 
Where to Use a Tri-Clamp Thermowell In Your Homebrewing Setup
There are four ideal spots to place a tri-clamp thermowell in your homebrewing system. Three require a standard tri-clamp tee fitting, as well as the thermowell. 
Place a tri-clamp thermowell:
Where the wort leaves the wort chiller (requires a tee connector)

Where the wort leaves a HERMS coil (requires a tee connector)

Where the strike water enters the mash tun (requires a tee connector)

Directly on fermenters and the brite beer tank
The temperature of the wort and water at these points in the brewing process is critical to a positive, desired outcome. Monitoring and maintaining the proper temperature is made that much more hassle-free and safe using tri-clamp thermowells.
Tri-Clamp Thermowells Make for More Sanitary Brewing
It's difficult to "drink to one's health" with an unhealthy brew. And that's where the use of sanitary fittings and equipment comes into play. 
Ideally, your brewing equipment should be sanitary stainless steel, at food grade 304 or 316L. All of our tri-clamp fittings meet this requirement. 
Sanitary tri-clamp thermowells add another layer of safety to your brewing, as well. They keep you from inserting the thermometer directly into your wort or water, avoiding any possible contamination.
The safety and security of any tri-clamp fitting or connection also keeps things sanitary. The secure seal avoids leaks, keeping the brew on the inside and the dirt and germs on the outside.
How to Properly Measure Your Tri-Clamp Fittings
Whether measuring your tri-clamp thermowell or the tee fitting needed to connect the thermowell to your brewing system, you'd rather be Goldilocks than one of the bears. 
You need an accurate, proper measurement so you know exactly what to order and get it "just right."
When you look at our product catalog, you will see we sell our tri-clamp fittings in "Sanitary Size." 
The Sanitary Size listed on the charts is the outside diameter, or OD, of the fitting. A size of 1 inch, or 1.5 inch, or as small as .5 inch, means that fitting's outside diameter measures that size.
So, by measuring the OD of your fittings, you can properly determine which tee connectors and thermowells you need. You can also trace around the OD of the current tubing or fittings you have, and check with one of our Sanitary Size charts. 
We've also made this handy video to help you measure proper sizes: https://youtu.be/qOOeZhMKZiQ  
How We Can Help With Your Homebrewing Needs
At this time, we don't carry tri-clamp thermowells, or indeed, any type of thermowell. 
We do, however, carry a full line of sanitary tri-clamp fittings, from the tees needed to place your tri-clamp thermowells into your homebrew system, to spools, bends, elbows, and just about any other fitting your homebrew system might need. 
All of our tri-clamp fittings are made from sanitary stainless steel, either 304 or 316L grade. 
All of our tri-clamp fittings come with a money-back guarantee, from 30 days to one year, depending on the fitting manufacturer. 
And for all orders over $100, we offer free shipping. 
Check out our full line of sanitary tri-clamp fittings today. Your homebrewing system deserves only the best, and that's what we supply.