Single-Pin Heavy Duty Clamp (13MHHM)
Tri-Clamp Single Pin Heavy Duty Clamp
Clamps are available in both 304 & 316L Stainless Steel.
Pressure ratings assume wing nut tightened to 25 in/lb of torque.
Description
Securely connect tri-clamp ends with heavy-duty, stainless steel single-pin clamp (13MHHM)
The single-pin heavy duty clamp with a wingnut is made from 304 stainless steel alloy (Also available in 316).  It is used to join two separate tri-clamp ends to one another.  Sizes on this product range from 1/2 inch all the way up to 12 inches in diameter.  A tri-clamp rubber gasket should be placed between the two flange ends to ensure proper fit and secure connection.  Do not over tighten wing-nut as this may damage the product.  The recommended amount of tension is to tighten the wing-nut until it becomes snug, then perform one more half twist for the proper amount.
Single Heavy Duty Clamps w/ Wing Nut Part Numbers & Dimensions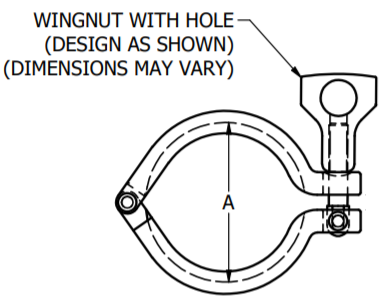 13MHHM Single-Pin Heavy Duty Clamp Detailed Drawing & Dimensions
Watch How to Measure Tri-Clamp Fittings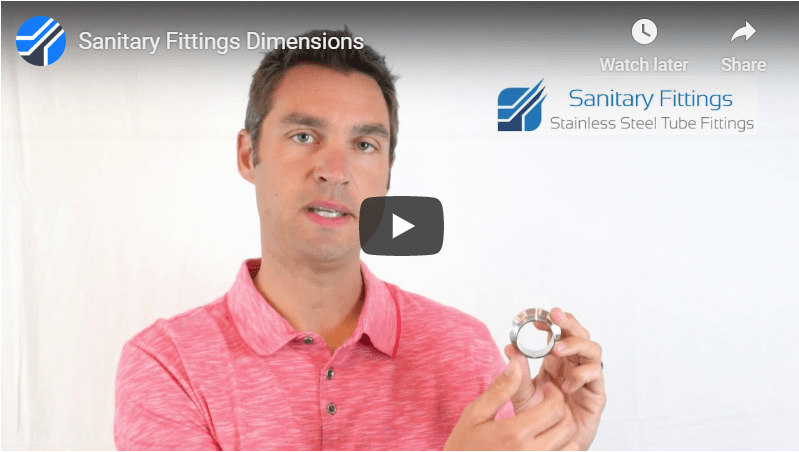 Tri-Clamp Fittings and Gasket Sizing Guide

| Sanitary Size | OD of Flange End | ID of Tube | OD of Tube |
| --- | --- | --- | --- |
| 1/2″ | 0.992 | 0.370 | 0.500 |
| 3/4″ | 0.992 | 0.620 | 0.750 |
| 1″ | 1.984 | 0.870 | 1.000 |
| 1 1/2″ | 1.984 | 1.370 | 1.500 |
| 2″ | 2.516 | 1.870 | 2.000 |
| 2 1/2″ | 3.047 | 2.370 | 2.500 |
| 3″ | 3.579 | 2.870 | 3.000 |
| 4″ | 4.682 | 3.834 | 4.000 |
| 6″ | 6.562 | 5.782 | 6.000 |
| 8″ | 8.602 | 7.782 | 8.000 |
| 10″ | 10.570 | 9.782 | 10.000 |
| 12″ | 12.570 | 11.760 | 12.000 |
Questions & Answers
7
Questions and answers of the customers