Tri-Clamp Butterfly Valves
Sanitary Clamp Butterfly Valve
316 Stainless Steel
Operating Temperatures: 15° F – 200° F
Information supplied based on water media at 68°F
32Ra Finish (Roughness Average)
Field serviceable.
Description
Sanitary tri-clamp butterfly valve for easy process control
Clamp Butterfly Valve comes with a pull-trigger locking mechanism to control process flow.  Tri-clamp connections allow for easy field disassembly for clean-in-place processes.  This product comes standard in 316L stainless steel alloy. We recommend
clamp gaskets
and our
single-pin heavy duty clamp
in order to safely connect this product to the rest of your system.
Butterfly Valve Operating Manual
Tri-Clamp Butterfly Valve Part Numbers & Dimensions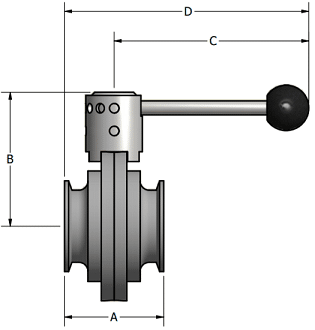 Watch How to Measure Tri-Clamp Fittings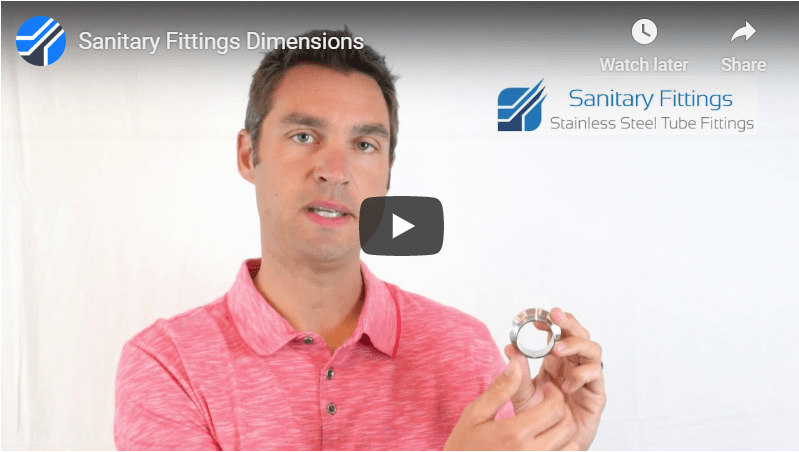 Tri-Clamp Fittings and Gasket Sizing Guide

| Sanitary Size | OD of Flange End | ID of Tube | OD of Tube |
| --- | --- | --- | --- |
| 1/2″ | 0.992 | 0.370 | 0.500 |
| 3/4″ | 0.992 | 0.620 | 0.750 |
| 1″ | 1.984 | 0.870 | 1.000 |
| 1 1/2″ | 1.984 | 1.370 | 1.500 |
| 2″ | 2.516 | 1.870 | 2.000 |
| 2 1/2″ | 3.047 | 2.370 | 2.500 |
| 3″ | 3.579 | 2.870 | 3.000 |
| 4″ | 4.682 | 3.834 | 4.000 |
| 6″ | 6.562 | 5.782 | 6.000 |
| 8″ | 8.602 | 7.782 | 8.000 |
| 10″ | 10.570 | 9.782 | 10.000 |
| 12″ | 12.570 | 11.760 | 12.000 |
Questions & Answers
7
Questions and answers of the customers