We know a good beer when we taste it. 
Fizz and flavor conspire together to tantalize our senses, and the pleasant aftertaste makes us go back for more. No wonder people smack their lips after the first sip. 
As you know, beer is more than just a mix of ingredients. 
From the quality of the raw materials to the fermenting process, everything about making it requires careful tending. 
Even the type of equipment used contributes to the final product.  
We know how essential the right sanitary fittings are to the brewing process, that's why we endeavor to produce only the best quality. 
Here's what you need to know before you outfit your brewery.   
Sanitary Tube Fittings and Why They Matter
Also known as hygiene fittings, tube fittings, or plumbing fittings, sanitary tube fittings are small pieces of plumbing equipment used to connect sanitary tubes or piping. 
The links formed are referred to as sanitary connections. 
Sanitary tube fittings are also used to change or regulate the flow of substances with pipes and connect these pipes with other equipment. 
Generally, they include all plumbing applications where cleanliness and sanitation are of primary concern—such as a brewing plant.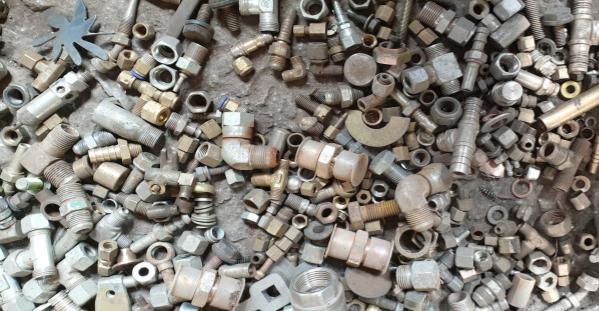 Different materials are used in making sanitary fittings: 
Metallic materials such as stainless steel, iron, and copper.

Metallic alloys such as steel and chromium, nickel, carbon, or manganese. 

Non-metallic materials such as PolyVinyl Chloride (PVC), Chlorinated Polyvinyl Chloride (CPVC), rubber, and Polyethylene. 
Tube fittings are designed to accommodate pipes or tubes ranging from half an inch to 12 inches in outer diameter. 
Pipes can be measured using inner diameter (ID) or outer diameter (OD). 

Due to the nature of tube fitting's use, they're subjected to various standards across the world. In the US, sanitary tube fittings are subject to US 3-A, ANSI, ASME, and API standards. 
Our products are made for food grade and pharmaceutical processors. Thus they are subject to US 3-A standards. 
3-A Standards for Tube Fittings 
3-A Sanitary Standards, Inc is an organization that develops and maintains a comprehensive inventory of sanitary standards and accepted practices for food, beverage, and pharmaceutical industries. 
Their 3-A authorization is concerned with: 
The compatibility of processing surfaces with commonly used detergents. Common detergents are aggressive thus equipment surfaces should be able to withstand them. 

Keeping the number of cracks and crevices that may form in processing equipment to a minimum. Product residue may collect in these spaces and form an ideal breeding ground for bacteria. 

Ensuring sanitary fittings have tapered internal angles to ensure residue is not caught in corner pockets. 

Ensuring equipment can be cleaned in place through spraying, water rinses, detergents, and chemical solutions. 

The ability for smaller pieces of equipment to be dismantled for cleaning. Most sanitary tube fittings fall under this category. 
Cleaning Ease of Sanitary Fittings for Brewing 
Tube fittings are used in food, beverage, and pharmaceutical industries where hygiene is of utmost importance. 
They can be dismantled or disassembled partially for effective cleaning. They can also be cleaned in place because they don't have sharp corners where bacteria or product residue can hide. 
Bacteria can render food and beverages harmful and unfit for human consumption, and even change the taste of beer. 
The flavor is usually a bigger concern for brewers. This is because the hops used in beer have antibacterial qualities. 
However, where bacteria spoil the beer, acidification and haze formation give it an intense aroma or artificial bitter flavor. 
Stainless steel is recommended for food and beverage processing since it's easy to clean, reducing the chances of a contaminated end-product.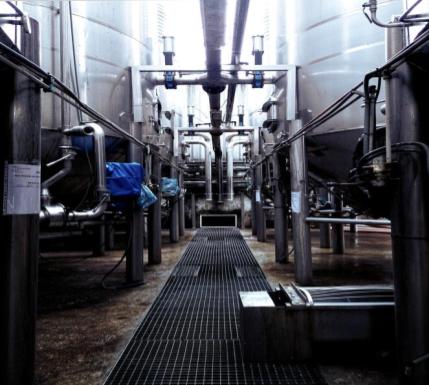 Stainless Steel 
Stainless steel is the most commonly used material in making tube fittings due to its ease of cleaning. 
Most of our sanitary fittings are available in 304 and 316 stainless steel. 
304 stainless steel contains high levels of chromium and nickel which make it relatively stainless. It also contains silicon, carbon, and manganese.
Though 304 steel is mostly corrosion-resistant, it is susceptible to chlorine or high saline environments. 
Stainless steel 316 has the same chemical composition as 304 but it has molybdenum added to it. Molybdenum is highly resistant to corrosion and is used in stainless steel alloys for greater protection. Thus, 316 is more pricey than 304 for that reason.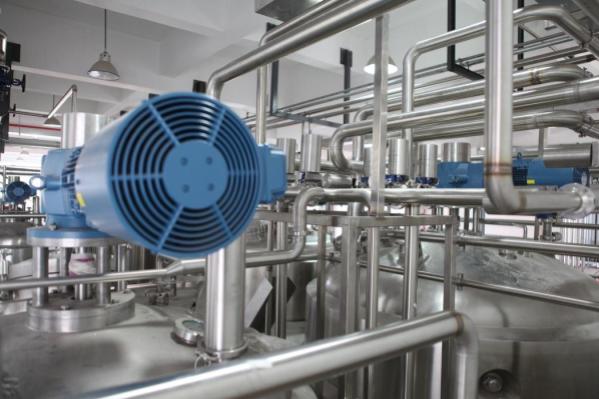 Roughness Average 
Under a microscope, steel appears to have peaks and valleys that can form pockets where bacteria and residue can hide. To avoid this, the steel used is polished to smooth it out and eliminate most peaks and valleys.
Smoothness is measured by roughness average (Ra) which indicates the level of smoothness in steel; the lower the roughness average, the smoother the steel. 
We use a roughness average of 32Ra at Sanitary Fittings, the recommended Ra for brewing, and other food-grade tube fittings. In the pharmaceuticals world, a Roughness average of 20Ra or 15Ra is used. 
Fixing Tube Fittings 
Tube fittings can be butt-welded, threaded, or fastened in place with a gasket onto pipes. 
Butt-welded fittings are welded onto adjacent pipe sections to form permanent bonds. Threaded fittings are attached to pipes and other equipment through matching male and female interfaces to form seals.
Gaskets can also be used to seal spaces left between two mating surfaces. In some cases, gaskets are used in conjunction with clamps to make better leakproof seals.
6 Types of Tube Fittings 
There are over 20 different types of tube fittings. Their use ranges from household use to processing plants. 
Commonly used tube fittings in brewing include:
 

Flanges

 

Gaskets

 

Elbows

Unions

Tee

Cross
Flanges
Flanges are a joining method used to connect pipes, valves, pumps, and other equipment in a processing plant. They are the second most common joining method after welding. 
Flanges are popular due to the ability to dismantle them for ease of cleaning. They can be welded onto surfaces or screwed in place. 
A flanged joint usually consists of flanges, gaskets, and bolts. The holes on the outside of the flanges are used for bolting them together. The middle of the flange can either be welded or threaded. 
Gaskets such as those used in tri-clamp fittings are used to seal the mated flanges to make them leakproof.
Flanges can withstand high pressure hence their use in manufacturing but care has to be taken when installing them since most leaks and fire hazards happen at flange joints. Follow the manufacturer's instructions to a T and use them only for the specifications they were intended.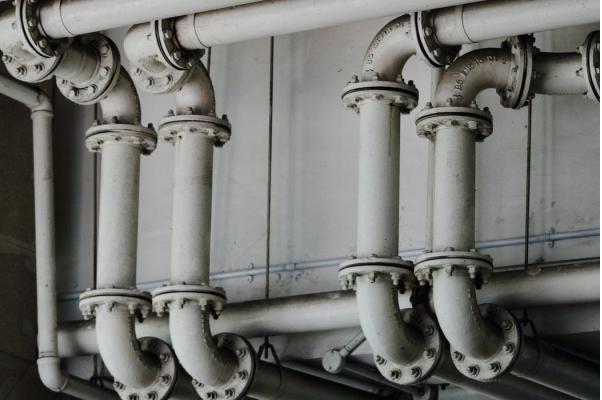 Gaskets
Gaskets are ring-shaped seals used to leakproof flange joints and other mating surfaces. They're designed to withstand different types of temperatures and pressures, and when properly fitted, they are excellent sealants. 
A common mistake is to overly tighten flange joints and other mating surfaces that use gaskets. This has the effect of putting too much pressure on the gasket and consequently destroying it.
Gaskets used in brewing are normally made of rubber specially designed for food-grade processors such as nitrile and EPDM. 
Our tri-clamp fixtures use gaskets for sealing which range in OD from ½" to 12". Our Buna (Nitrile) and EPDM gaskets are ideal for brewing and are both FDA-approved.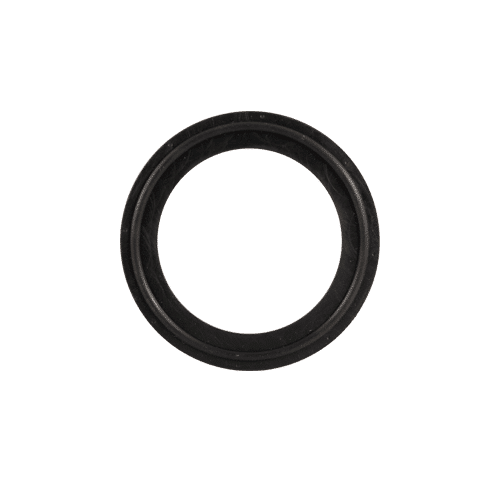 Elbows
Elbows are fittings that are used to change the direction of a pipe by a 45° or 90° angle. As the name suggests, they look like elbows and make elbow-like joints on the connected pipes. Unlike elbows, their edges are tapered off to ensure that they can't form pockets where bacteria and product residue can hide. This makes cleaning easier.
They're made from different materials such as brass, PVC, stainless steel, copper, etc. Those used in brewing are made of stainless steel due to ease of cleaning and the fact that stainless steel is not easily corroded.
We have a range of elbows in both 90° and 45°. They can be butt-welded in place such as the 90° Butt-Weld Elbows (2WCL) and the Butt-Weld 90° Sweep Elbows. We also have some that use tri-clamp fittings such as the 45° Tri-Clamp Elbow (2KMP).
Unions
Unions are alternatives to flanges and are used in low-pressure smaller diameter piping systems to connect two pipes. They are easier to dismantle than flanges making them ideal for pipe connections that need constant disassembly for cleaning.
They consist of three parts namely a male end, a female end and a nut. They can be either threaded or socket welded. When male and female ends are connected they provide the required sealing making them leakproof.
We have some union products such as Union Hexagonal Nuts, Short Plain Bevel Seat Ferrules, and Long Plain Bevel Seat Ferrules. 
Tees
Tees are a three-way fitting with a 90° branch in the middle. They're used to collect or distribute fluid from a run pipe and are usually short pipes such as the Tri-Clamp Short outlet Tee (7MPS).  They are connected to pipes through butt welding, using gaskets, or threading.
Tees come in three types: 
Straight tee. The diameter of the branch pipe is usually the same as that of the run pipe.  

Reducing tee. The branch pipe has a smaller diameter than that of the run pipe. The

Tri-Clamp Short Reducing Tee (S7RMPS)

is an example of this kind of tee.

 

Wye. A type of tee pipe that has a 45° branch off instead of 90°. A wye allows pipes to be connected at a 45° angle which is ideal for reducing friction and turbulence. We have two types of wyes namely the

Tri-Clamp True Wyes (28BPM)

and

Sanitary Butt-Weld True "Y" (28W)

.
Cross
This is a four-way pipe fitting that comes in two types: One with an inlet and three outlets, the other with three inlets and one outlet. 
It looks like a cross, as the name suggests. 
The ends can either be socket welded or threaded for fitting to connecting pipes.
They are ideal for low-pressure and low-temperature environments such as pharmaceutical industries since their design already stresses the fitting and the connecting pipes.
Tube Fittings for All Your Brewing Needs
Feeling confident about setting up? 
We carry all the aforementioned tube fittings and many more for all your sanitary fitting needs and more. 
Check out our full product catalog for types of fittings, tube diameter sizes, and more, or contact us with any queries you have. 
We have what you want for your brewery? Call us on (800) 270-8926 for a free quote.