Tri-Clamp Fittings FAQ
We get a lot of questions about tri-clamp fittings.  It's understandable as they are the most popular fitting that we offer.  If you don't see an answer to your question below, please contact us.
How do you measure tri-clamp gaskets?
There are a couple of ways to measure a tri-clamp fitting but the most common is to use a calipers and determine the outside diameter of the tube.  For a detailed guide, please see the video below or our guide to measuring sanitary fittings.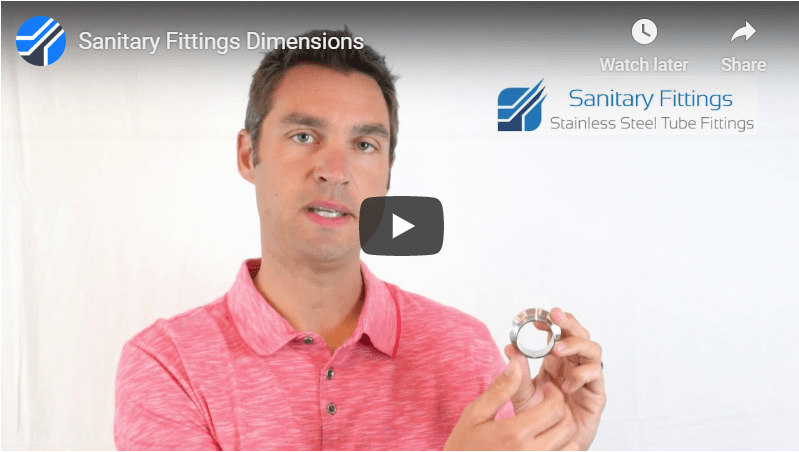 What is a tri-clamp fitting?
Tri-Clamp is a stainless steel fitting used within the food, beverage and pharmaceutical industries.  They are easy to assemble, break-down and clean making them the most attractive style of fitting that we offer.  A tri-clamp connection is made by mating the two flanged ends of the fittings with a gasket for sealing and a clamp to secure the connection in place.  Please see basics of tri-clamp fittings.
Why use tri clamp-fittings?
The major benefit of tri-clamp fittings is two-fold:
What is tri-clamp mounting for pressure sensors?
Occasionally customers will need to monitor the products they are processing for a set of attributes such as temperature, pressure or flow rate.  These gauges need to be mounted in the processing line with probes inserted into the medium.  In order to accomplish this, the most common way in which sensors are mounted to processing lines is by:
What is the PSI rating for tri-clamp fittings?
Pressure ratings are based off of the clamp used to secure the fitting as this is the weakest point in the connection.  Our highest rated pressure clamp is the Double-Pin Heavy Duty Clamp. For a complete list of clamps offered along with their associated pressures, visit our sanitary clamp selection guide.
How do you install tri-clamp fittings?
Tri-clamp connections are connected to each other by mating the two flanged ends together with a clamp and gasket.  The other side of the tri-clamp fitting can vary widely but some common connections include:
How much weight can a tri-clamp fitting hold?
Tri-clamp fittings are NOT rated to support weight, they are designed to complete a leak-proof seal.  In order to support tubing and other connections, we recommend any of our tube hangers available for purchase.
Where to buy a tri-clamp spool?
Tri-Clamp spool assemblies are custom-made fittings which consist of a tri-clamp connection on both ends of a tube with varying lengths.  You can buy spools at pre-determined lengths here.  Custom lengths are always available for purchase as well (contact us).
Learn more about tri-clamp spool assemblies.
How to reduce a tri-clamp?
In order to go from one size tri-clamp to another you'll need what's called a tri-clamp reducer.   There are three unique styles of reducers:
Which tri clamp gasket should I use?
Tri-Clamp gaskets come in a variety of materials including:  Buna, EPDM, Teflon (PTFE), Viton (FKM) and Silicone.  The material you will need to select depends upon a number of factors including what you are processing and at what temperature.  For additional information, please see our tri-clamp gasket selection guide.
Where to get 3D models of tri-clamp fittings?
We can offer STEP files for almost all of our fittings.  Please contact us with your specific requests.
How many gaskets do you need for a tri-clamp fitting?
Just one.  Any more than that and you're doing it wrong.